British geologist jailed in Iraq after taking artefacts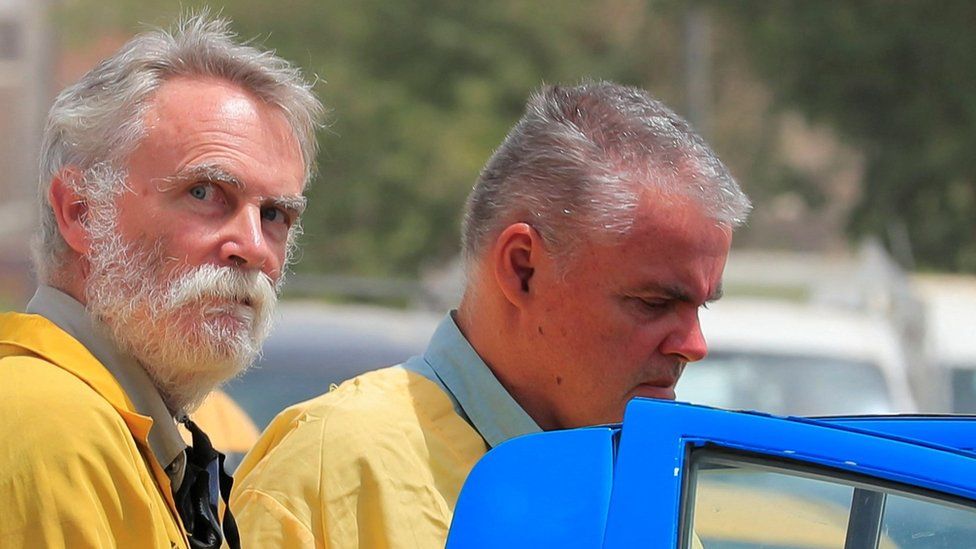 A retired British geologist has been jailed for 15 years for attempting to remove artefacts from Iraq.
Jim Fitton, 66, who is originally from Bath, collected 12 stones and shards of broken pottery during a recent geology and archaeology tour of the country.
Mr Fitton has insisted he had no idea he was breaking Iraqi laws.
The family of Mr Fitton said they were "absolutely shattered" and "heartbroken" by the news. They urged the government to help free him.
"For a man of Jim's age, 15 years in an Iraqi prison is tantamount to a death sentence," the family added.
"Particularly for such a trivial and dubious crime, a crime Jim was not even aware of when he perpetrated it.
"We are raising an appeal and will continue to fight for Jim's freedom, and urge the government to support us in every way possible and to open lines of communication with us at a senior level."
Bath's Liberal Democrat MP Wera Hobhouse said the sentence was "a devastating outcome for Jim and his family".
"There is now no other option but for the Foreign Secretary to intervene at a ministerial level. The Foreign Secretary must make representations to the Iraqi Government."
The Foreign Office has previously said it cannot interfere with the judicial process of another country.
Mr Fitton was arrested at Baghdad airport on 20 March alongside German national Volker Waldmann.
He was acquitted of the same charges as Mr Fitton.
According to statements from customs officers and witnesses, Mr Fitton's baggage contained about a dozen stone fragments, pieces of pottery or ceramics.
Mr Waldmann allegedly had two pieces, but at the trial's opening on 15 May denied they were his.
Both of the men, dressed in yellow clothing, told the court they were not guilty "of trafficking antiquities".
When Judge Jabir Abd Jabir asked Mr Fitton why he tried to take the artefacts out of Iraq, he cited his "hobby" and said he did not mean to do anything illegal.
They were charged under a 2002 law against "intentionally taking or trying to take out of Iraq an antiquity".
Mr Fitton's sentence appeared to have shocked those in the court, including his defence lawyer.
"I thought the worst case scenario would be one year, with suspension," Mr Fitton's lawyer Thair Soud said.
The maximum sentence for removing artefacts is the death penalty.
The court decided to reduce the sentence "because of the advanced age of the accused," the judge said.
Mr Fitton collected the items as souvenirs while visiting a site in Eridu, in Iraq's south east.
Iraqi officials have said the fragments could be considered as archaeological pieces as they date back more than 200 years.
The Foreign Office has said it cannot interfere with the judicial process of another country and has made clear its opposition to the death penalty.