Royal Navy helicopter pilots and crew receive their wings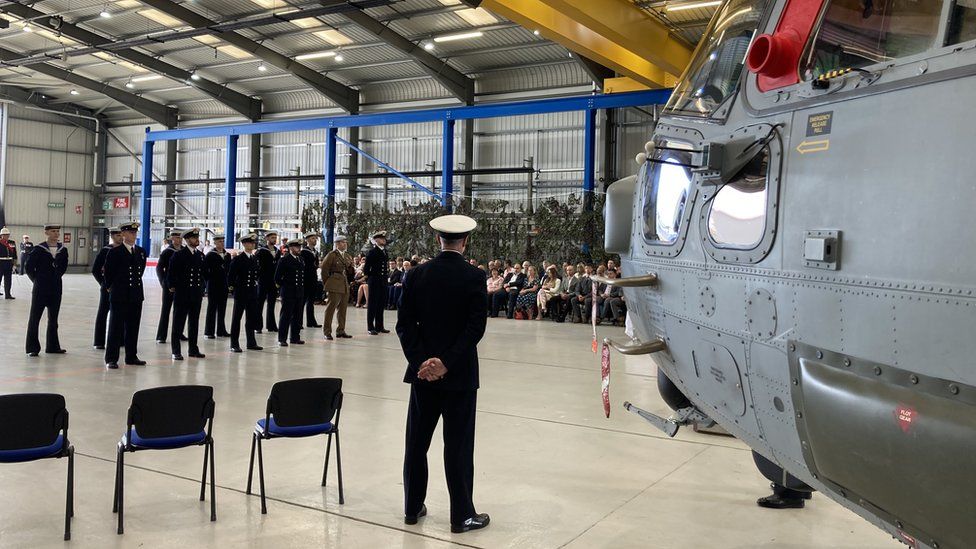 The latest batch of helicopter pilots and crew at a Royal Navy Air station have received their wings.
Some 12 servicemen from the Commando Helicopter Force's 846 Naval Air Squadron were honoured at the parade at Yeovilton, Somerset, on Thursday.
Known as the flying training squadron, they also took part in celebrations to mark the 80th anniversary of 846's formation in 1943.
The 12 will now join operational front-line naval squadrons.
Families, senior officers, service personnel and former commanding officers were invited to the event which featured a display of current and vintage aircraft.
A demonstration featuring two Commando Merlin helicopters and depicting a simulated terrorist incident which required the rescue of a hostage by the Royal Marines also took place.
George Gardiner, a former Sea King helicopter aircrewman whose son David was following in his footsteps, said: "It's pretty emotional".
He added: "I'm actually quite jealous as well because he's going into a great adventure.
"I loved every minute of it and now Dave is going to take over, hopefully where I left off, on this fantastic aircraft."
David Gardiner said he was proud to follow in his father's footsteps, describing it as a "long time coming".
Colonel Mark Johnson, Commanding officer of the Commando Helicopter Force, said the new aviators had completed some of the most difficult flying training in the world.
He said it was an important day especially when you "look at the programme going forward".
He added: "This is the first time that we have a set of aviators that are probably going to experience the arctic, desert and jungle, in their first tour on the front-line in support of the Royal Marines."
Related Internet Links
The BBC is not responsible for the content of external sites.