Rotherham teacher remembered at church in stained glass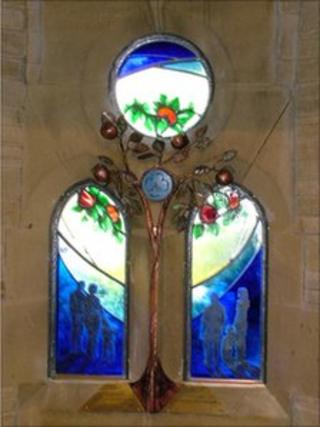 A stained glass window celebrating the life of a teacher from Rotherham was unveiled in her local church on the first anniversary of her death.
Sheila Ferguson, who died on 16 July 2009, had recently retired as a maths teacher at Thomas Rotherham College.
She was a long-standing member of St Saviour's Church at Mortomley where the new window has been installed.
It was designed by Helen Whittaker, who created the recently-installed East Window at Sheffield's St Mary's Church.
The theme of the window, with copper sculpture, is the Tree of Life, with impressions of a family looking on the scene.
'Significant occasion'
Mrs Ferguson, 60, who was a Brownie and Guide leader, was also secretary to the Parochial Church Council.
Rev Edwin Mitchell, the vicar of St Saviour's, said the unveiling was a "significant occasion for High Green as well as the Church, her family and friends".
She said the new window, donated by Mrs Ferguson's husband Angus, was a "superb addition to our worshipping environment, as well as having great meaning for Sheila's family, friends and work colleagues".