Rotherham council axes free parking as grant cut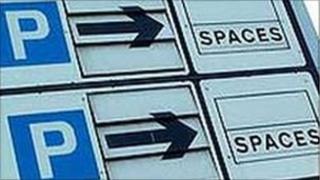 Rotherham council is to axe free parking and swimming schemes after losing a £3m government grant.
The council, which met on Wednesday to discuss the withdrawal of the grant, said it had been left to "take some difficult choices".
Free parking in the town after 1500 hrs on weekdays is to end in October and on Saturdays from January. Free swimming will go from September.
The council had expected the grant for meeting improvement targets.
The loss of the £3m grant comes soon after the government's decision to abolish regional development agency Yorkshire Forward and its funding streams.
'Difficult economic times'
The council said that it had secured some funding to allow it to keep the free parking schemes going longer than initially feared.
"Both schemes were at risk of being withdrawn immediately as a result of the withdrawal of the funding from central government," a council statement said.
A planned increase in parking changes has also now been deferred until next year.
Karl Battersby, the council's strategic director of environment and development services, said: "It is important that in difficult economic times we continue to... do what is right for Rotherham, not just cease activity because central government funding has been withdrawn.
"For this reason, we have been forced to reprioritise and take some difficult choices to ensure we can continue with many of the town centre and employment initiatives which have been welcomed by local residents and retailers."