Clegg denies Tory party donor link to Forgemasters loan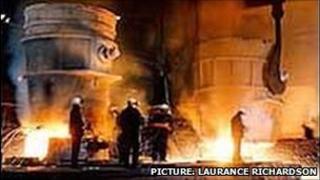 The government has denied its decision to axe a loan to Sheffield Forgemasters was influenced by a request from a Conservative Party donor.
Parliament was told ministers received a letter from Andrew Cook - chairman of Sheffield-based steel firm William Cook - suggesting the loan be scrapped.
Labour pledged the £80m loan but it was axed by the new government last month.
Nick Clegg told BBC Radio Sheffield the suggestion was "absurd" and it was down to reasons of affordability.
Mr Clegg said: "It's constant muck-raking from Labour MPs who won't live up to their own responsibility in making a number of promises with money they didn't have."
The issue was raised in the House of Commons on Wednesday night by Angela Smith, the Labour MP for Penistone and Stocksbridge, who obtained the letter following a Freedom of Information (FoI) Act application.
She said: "I have here correspondence released as the result of an FoI request which indicates that Andrew Cook, of William Cook Holdings, wrote to the government urging the cancellation of the loan."
Clive Betts, MP for Sheffield South East, read out extracts of the letter which said: "I believe the private sector can provide the required finance without the taxpayer shelling out.
"It's a typical Labour sacred cow."
Ms Smith said: "This approach, from a major donor of the Tory party, seems to provide the only basis for the government's decision to cancel the loan."
Business Minister Mark Prisk said the letter was "noted" but had "no bearing on the decision-making process".
Jobs created
He added: "Ultimately we came to the reluctant decision that the loan was simply unaffordable at this point."
In a statement, Andrew Cook said: "I have long been a vocal campaigner against the misuse of public funds to support private business."
It continued: "So it is no surprise that I am strongly opposed to the previous government's hand-out to Forgemasters, particularly when I had already offered as a local businessman to help supply the funding they needed."
The debate followed heated exchanges during Prime Minister's Questions when Mr Clegg was asked to defend the decision.
The loan would have funded expansion plans to buy equipment to make parts for nuclear power stations and would have created about 200 jobs.
But it was cancelled as part of a package of spending cuts designed to save £2bn.
On Tuesday, Forgemasters announced it had now shelved plans for the expansion.