Sheffield Supertram workers' strike vote over union rep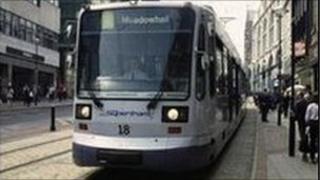 Supertram workers in Sheffield are voting on whether to take strike action over the de-recognition of one of their union representatives.
The ballot was called after Stagecoach Supertram said it could no longer deal with the Unite official, claiming he had "broken an agreement" on standards.
The company said it was disappointed the ballot was taking place and would continue to work closely with Unite.
John Evans, from Unite, said the company's action was "drastic".
'Unnecessary action'
He said: "We've had a good working relationship with the company over the years but unfortunately there's been a problem with this particular individual.
"There was certainly an issue that needed to be dealt with... the the action that they have taken is thought to be a little bit drastic."
The Supertram spokeswoman said: "We were recently forced to inform the Unite trade union we were no longer able to deal with one of its officials.
"It followed a number of incidents where the individual broke an agreement on the standards expected of a trade union representative and undermined the democratic voting process.
"We have followed the correct process relating to this matter and have consulted with Unite at every stage.
"It goes without saying that we continue to recognise Unite as a trade union and work closely with them across many areas of our business.
"We hope that common sense will prevail and that our customers will not be subjected to unnecessary industrial action and disruption to their services."