Job loss fears as Sheffield council votes on cuts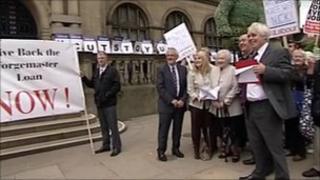 Job losses have not been ruled out at Sheffield City Council as the authority looks to make millions of pounds of budget savings.
Plans for £6.5m of cuts in the 2010/2011 budget were approved at a meeting of the full council.
It is the first round of cuts, with the authority warning of a possible £219m reduction in spending over four years.
Council leader Paul Scriven said: "I can't today say there won't be any redundancies."
Protesters staged a demonstration ahead of the council meeting earlier.
Authority officials have to find the savings after the government made significant grant reductions.
About £3m of the £6.5m cuts will come from the Department for Children, Families and Schools.
Mr Scriven said: "As we looked at the budget both today and as we move forward I've not just seen them as facts and figures on a piece of paper.
"We've really thought about the effects on people and we're making sure the most vulnerable are protected and that we provide services differently to make sure as much as possible goes on to frontline services.
"I can't honestly say to the people of Sheffield that there won't be service reductions but what they can be assured of is that we will work with the people of Sheffield to make sure the priorities they have, that's where the money goes."
Sheffield Brightside and Hillsborough MP David Blunkett met the council's director of children's services on Friday to urge a rethink over the proposed cuts.
Mr Blunkett said he was "appalled" at the level of cuts proposed to the council's education budget and said he hoped to persuade council officials that there would be "catastrophic consequences" if the plans went ahead.