Toll Bar and Bentley flood defence projects under way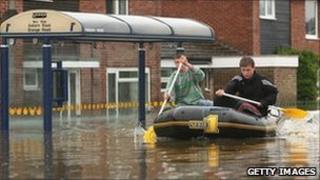 Work has started on a £3m flood defence scheme to protect parts of South Yorkshire which were worst affected by the summer floods of 2007.
The Environment Agency project will repair and improve defences running along Ea Beck in the villages of Toll Bar and Bentley near Doncaster.
The agency said the work was expected to last several months.
Hundreds of homes and businesses were flooded after torrential train hit the region on 25 June 2007.
Environment Agency project officer John Woods said: "Ea Beck has a history of flooding and it is vital that the defences in this vulnerable area are in top condition.
"We already have contractors on site carrying out the work in some areas of Bentley and Toll Bar, however people will see more activity along the defences as the weeks progress."
However, the agency stressed that the defences were not a guarantee against future flooding.
Agency spokesman Malcom Muscroft said: "You can never say it will never happen because with some sort of extreme rainfall event man-made systems can always be overwhelmed."
The scheme includes building a new 350m (1,150ft) flood bank at Ea Beck Triangle, improving a further 350m stretch, and realigning the channel.
That work is due to finish by the end of the year and will cost about £1.2m.
Improvements have also been earmarked for an 800m (2,625ft) stretch of flood bank between Duck Holt and Tilts Bridge, and another 600m of flood bank will be strengthened upstream of Ea Beck Triangle.
This part of the work will cost £1.1m.
Environment Agency officers are holding two community events to inform people aboput the benefits of the scheme.
On Tuesday, 3 August they will be at Toll Bar Community Centre from 1400 BST to 1900 BST.
On Thursday, 12 August they will be at Bentley Pavilion in Askern Road from 1400 BST to 1830 BST.