Rugby clubs honour injured marine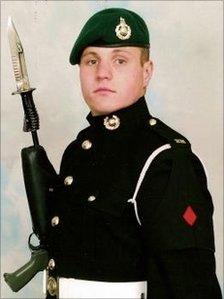 A Rugby League player who survived being shot in the head in Afghanistan is being honoured by his former clubs.
Liam Brentley, 25, from Bradford, was serving with the Royal Marines when he was injured in June. He is recovering but faces a long period of treatment.
Bradford's Dudley Hill club have been collecting money for the Help for Heroes charity.
On Thursday Sheffield Eagles will collect money for Mr Brentley's family at their last match of the season.
The Eagles are letting forces personnel and emergency service workers into the match, against Leigh Centurions, free.
They need to contact the club before the match to get their tickets.
Mr Brentley played for Dudley Hill and then the Eagles before joining the armed forces.
Andy Russell, who has organised the Eagles event, said: "Liam was an important part of the club and we want to show our support for him and his family."
"It is an opportunity to show how much we owe brave people like Liam who serve their country."
Mr Brentley's father Gary said the fundraising efforts were "absolutely brilliant".
He said his son was lucky to be alive.
"Luckily his comrades gave him first aid," Mr Brentley said.
"The Americans played a vital part in getting him airlifted out to Kandahar, to a medical team there who did an operation with him."
His son, who is married with two young children, is now receiving treatment at the Headley Court rehabilitation centre in Surrey.
Mr Brentley said: "Obviously with a brain injury, there's different issues but he's responding well and his rehabilitation treatment is ongoing.
"He's walking a bit. But it's going to be a long road and he will get there."
Related Internet Links
The BBC is not responsible for the content of external sites.