South Yorkshire fire engines 'not wanted' despite refit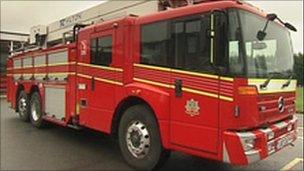 Firefighters in South Yorkshire have said they do not want to use four new fire engines which are undergoing a £700,000 refit to make them roadworthy.
The four Combined Aerial Rescue Pumps (CARPs) were bought for £2m but could not be used because they were too heavy to drive legally on British roads.
Fire service chiefs said the refitted engines would be fit for purpose.
But a regional Fire Brigades Union (FBU) spokesman told BBC News: "We'd rather stick to what we've got."
The CARP vehicles were designed to do everything a traditional appliance did, but with an aerial platform to allow firefighters to reach the upper levels of buildings.
However, when loaded with equipment, the vehicle exceeded the 26-tonne legal weight for fire engines on the road.
South Yorkshire Fire Service sent them to be modified by a specialist in the Netherlands at an extra cost of £700,000.
The first modified vehicle is due to be delivered for testing in mid-October.
Graham Wilkinson, acting chairman of the FBU in South Yorkshire, said firefighters regarded the CARP as "a cutback in services".
"The initial concept was that it could be used as a firefighting appliance and an aerial platform... with six firefighters," he said.
"Now I believe that has changed to four firefighters, so once that goes to an incident, if the aerial capacity is used, it can't be used as a fire appliance.
"We've been saying all along that we would rather keep the fire appliance and aerial platform separate.
"Unfortunately we are where we are and we'll just have to wait and see when the appliances finally turn up what we think about them when we do a final inspection."
Asked how he expected his colleagues to react, he said: "I think they're going to say we'd rather stick to what we've got.
"But the money's been spent and it doesn't look to me as though South Yorkshire Fire and Rescue would get rid of them because of the expense."
However, South Yorkshire Fire Service's director of finance Beverley Sandy said: "I have got every confidence it will do what it says on the tin.
"The idea of having them taken to Holland and rectified is so it will do precisely that, fulfil the purpose it was asked to do."
She said the CARP was never intended to be used on its own as an aerial platform whilst simultaneously tackling fires.
"With four people it would still do the job it was intended to," she said.
"It will never be in a position where it will not have some form of other back-up crew around it in the same way we do with every incident at the moment where we need to use both facilities."
Related Internet Links
The BBC is not responsible for the content of external sites.