Doncaster Robin Hood Airport: Easyjet to end flights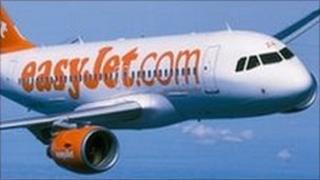 Easyjet has announced it is pulling out of Doncaster's Robin Hood Airport just five months after launching services in South Yorkshire.
The airline started operating 23 flights a week to Amsterdam, Prague, Barcelona, Faro and Majorca in April.
But airport operator Peel Airports said that because Easyjet's aircraft had not been based at Doncaster flight times on some services had been unattractive.
It said the loss of a name like Easyjet was "a setback" for the airport.
When it launched the services from the airport, officially known as Doncaster Sheffield Airport, in April, Easyjet said it was aiming to "tap into the attractive Yorkshire catchment area" and promote Yorkshire as a destination for Europeans.
Nick Smillie, aviation sales director for Peel Airports, said: "We are naturally very disappointed by Easyjet's decision to withdraw flights from 4 January 2011.
"Operational restrictions, largely due to the fact that the aircraft is not Doncaster based, have affected the viability of the operation.
"For example, the timings of certain key flights have affected their attractiveness to the region's business community - a key source of passengers and revenues.
"However, where schedules have been favourable, aircraft have been flying up to 99% full. This provides us with strong evidence of demand for flights from Doncaster Sheffield.
"We were really proud of getting a big-name carrier which was a high-profile success for the airport and we hoped it would grow. We cannot deny this is a setback."
He said the airport was talking to other airlines regarding Easyjet's routes and was confident many would be reinstated "in the near future".
In a statement, Easyjet said: "We can confirm we will be ceasing to fly from Doncaster Sheffield Airport having decided to transfer the aircraft to an alternative base airport elsewhere in the UK.
"The one aircraft that operated from Doncaster Sheffield Airport will be absorbed back into the schedule of flights operating from Liverpool Airport."
There would be no job losses as result of the announcement, the airline added.