Rusty spring found in baby milk in Sheffield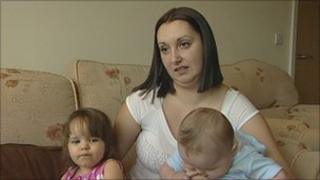 A leading baby milk manufacturer has launched an investigation after a Sheffield mother found a rusty spring in one of its containers.
Tamsin Hezzell made the discovery as she prepared a bottle for her six-month-old son.
Ms Hezzell said she was concerned for her child's health because she had already used half the container before discovering the spring.
Manufacturer, SMA, has asked that the container be returned.
A statement from Pfizer, which owns SMA, said it would need the container so it could carry out a full investigation.
The statement added: "We take concerns from our customers very seriously. On receiving this report we immediately initiated an investigation."
Ms Hezzell said: "I just came in the kitchen to make Tyler a bottle. I opened the tin of milk and when I was scooping the milk out, I came across a lump."
"I shoved my hand in to try and crush it and pulled out this spring. I was gobsmacked."
Ms Hezzell said she would not be using SMA's powdered milk again.
She added: "Tyler has not been a well baby since he was born and if it has been contaminated in any way then it is not a good thing."