Rotherham council to start charging for new waste bins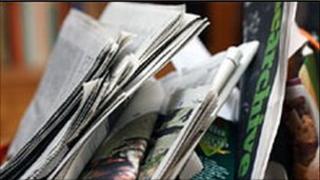 Rotherham Council is to start charging for the waste bins it provides.
In 2009, Rotherham provided more than 25,000 replacement waste containers, free of charge, at a cost to the taxpayer of more than £200,000.
But the Labour-led council feels it can no longer afford this and is to introduce charging from November.
Existing households will have to pay £22 for replacement black bins and collect them from the depot in Hellaby. Delivery will cost an extra £8.
Under the scheme, developers and management companies of newly-built properties will be charged for the first set of waste containers that are supplied.
The council will charge £57 a time to deliver a 240-litre black bin, a 240-litre green bin, a blue box and a blue bag to each new property.
Householders will be exempt from charges for bins which have been set alight or stolen, if a police incident number is provided, or for bins which are damaged during collections.
Additional 140-litre black wheelie bins for families of five or more will also be provided free.
The council will not charge for replacement recycling containers such as green waste bins, blue boxes or blue bags.
Richard Russell, the council's cabinet member for waste, said: "The authority simply cannot continue to provide all waste containers free of charge.
"It is regrettable that we are having to introduce the £22 replacement charge, but if we want to continue with our collections and improve our recycling rate we will have to make this charge."
However, John Gilding, the leader of the Conservative group on Rotherham Council, said: "A basic service should be free and litter collection is one of the few visible services that the public get from their local council."