Sheffield bomb expert Karl Ley awarded bravery medal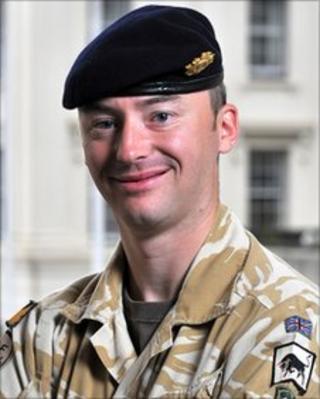 A Sheffield soldier who has cleared more roadside bombs than anyone else in history is among scores of UK service personnel being honoured for gallantry.
Sgt Maj Karl Ley, 29, made safe 139 improvised explosive devices (IEDs) planted by the Taliban during a tour of Helmand Province in Afghanistan.
The number is more than twice as many as any other bomb disposal expert.
Sgt Maj Ley has been awarded the George Medal for his "sheer determination, guile and awesome bravery".
A total of 131 members of the armed forces are to be awarded medals in the latest Operational Awards List.
On one operation Sgt Maj Ley, a married father-of-three, defused 42 IEDs within 72 hours, and at times he had to clear bombs with insurgent mortars and gunshots landing as little as 30m (100ft) away from him.
He joked: "If you're being shot at, you get down on the deck. So you might as well get rid of the bomb while you're down there."
Asked what went through his head when he was defusing a Taliban bomb, he said: "We really do just see it as a job, something that needs to be done.
"I'm generally thinking of my next meal more than anything else."
The soldier, who has been promoted since his six-month tour of Helmand, was hailed for accepting an "incredibly high" level of personal risk to make routes safe for his comrades and Afghan civilians.
He said his wife and children were happy he was home and he was getting on with mundane household chores.
"I'm halfway through a list of jobs my wife had ready for me - I've just slipped right back into normal family life," he said.
The soldier said he planned to celebrate his medal with "a few beers" and possibly a trip to watch a Sheffield Wednesday game.