Sheffield's Sevenstone retail project under review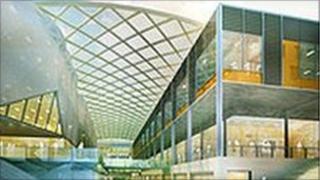 The delayed Sevenstone retail quarter project in Sheffield could go ahead on a smaller scale after a review of the development by the city council.
Developer Hammerson put Sevenstone on hold in 2008 due to the economic slump.
It suffered a further blow in June 2010 when the government said it was cutting £12m of public funds for the project.
Sheffield City Council has now revealed it has been working behind the scenes for months to ensure the scheme goes ahead in some form.
The revised scheme, which is not yet finalised, would provide the city centre with about 11.5 acres (46,452 sq m) of retail space.
The original £600m plan was for Sevenstone to cover 20 acres (80,937 sq m), housing 100 shops.
Sheffield City Council leader Paul Scriven said: "This is about the public and private sectors working together for the benefit of Sheffield people.
"In basic terms, money is tight so we're looking at using the money already invested in the scheme more wisely.
"At the same time we need to make sure that the scheme we deliver is viable."
He said all facets of the scheme had been up for review.
That included the possibility that John Lewis would remain at its current Barker's Pool location rather than move to new premises at the site of the now-demolished Wellington Street fire station.
A John Lewis spokesperson said: "John Lewis is still committed to having a presence in the development, and we continue to work closely with the council and developers Hammerson. "
New financial plan
Funding for the project has also been part of the review.
The £12m which the government cancelled in June included £2m from the Homes and Communities Agency and £10m from the now-defunct development agency, Yorkshire Forward.
Sheffield City Council had also committed £10m to the project.
Mr Scriven said that the council was working on a new financial plan.
"We are putting forward proposals to the Treasury to review the historic investments to the project and restructure finances to give Hammerson enough comfort to buy up the remaining land in the development site," he said.
"In the new year we should be able to present new drawings to the people of Sheffield to get their views on how the scheme will look and feel."