Sheffield general election poll blunder 'embarrassing'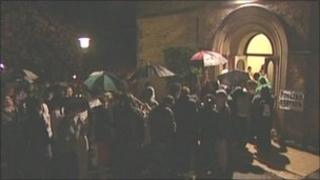 Sheffield City Council is to train more staff to handle queues at polling stations after hundreds of people were unable to vote at the general election.
On 6 May hundreds of people queued for more than three hours at five polling stations in the city, and about 500 were unable to vote at all.
An internal review revealed staff underestimated the turnout in the election, particularly among students.
Chief executive John Mothersole admitted the error was "embarrassing".
Deputy Prime Minister Nick Clegg, the MP for Sheffield Hallam, said the incident was an "absolute outrage".
'No excuse'
He said: "I feel still very angry on behalf of my constituents that there were polling stations in my constituency where there were hundreds and hundreds of young people.. who were waiting for hour and hours and hours, simply to fulfil their democratic right to be able to vote in that election and many of them were denied that.
"That should never, ever happen again."
The council's report said it had planned for a 20% increase in turnout above the last council elections, but the increase was at least 60%.
The authority pledged to train more staff to ensure faster processing during future polls.
Mr Mothersole said: "If you're going to have this sort of problem don't have it in front of all the world's media and all the media were here on that night.
"Of course it's embarrassing.
"We were not alone but that's no excuse.
"We will learn from it and this will not happen here again."