CCTV reduces South Yorkshire firefighter attacks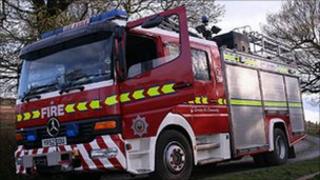 Attacks on firefighters in South Yorkshire have fallen since engines were equipped with CCTV cameras, figures show.
By the end of 2008 all fire engines were kitted out with CCTV in an attempt to cut the number of attacks on crews.
Fire service figures show there were 37 attacks on firefighters between April 2009 and March 2010, down from 68 the previous year.
A spokesman said the 45% reduction was "very pleasing".
Physical violence, the throwing of missiles and verbal assaults are all recorded as attacks.
The CCTV footage helps police to identify suspects and can be used as evidence in criminal prosecutions.
Neil Hessell, the fire service's head of technical services, said: "It is very pleasing to see that our decision to introduce CCTV on fire engines is having a direct impact on these attacks, which place the safety of our firefighters, and the people they are trying to protect, at risk.
"However, even one attack on a firefighter is unacceptable and we will work alongside the police to fully investigate any attacks and ensure that the footage is used to bring those responsible to justice."