Sheffield traffickers jailed for Polish workers scam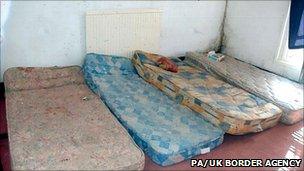 Two members of a "ruthless" gang which conned money out of scores of Polish workers who were brought into the UK on false promises have been jailed.
The UK Border Agency (UKBA) said the scam, which may have involved up to 130 workers, was one of Britain's largest human trafficking conspiracies.
Lukasz Adamowicz, 28, and Jerzy Bala, 40, appeared at Sheffield Crown Court.
The court, sitting on Friday, heard they were "middle managers" of an operation focussed on Sheffield.
It was told how the scam involved Polish men handing over hundreds of pounds before they were housed in "stinking and dingy" conditions in the derelict Halcar Tavern, in the Burngreave area of Sheffield.
The men entered the UK under the impression they would be well-paid, after paying for their own flights and a range of up-front fees.
Once in the country they were found jobs in the local building trade but, after a few weeks, most realised they were never going to be paid.
The UKBA said a gang would then turn up with baseball bats to forcefully evict the victims.
Recorder Martin Simpson said the men were effectively "imprisoned without manacles".
He jailed Adamowicz for four years after the defendant admitted conspiracy to traffic passengers into the UK at a previous hearing.
Adamowicz also admitted conspiracy to traffic passengers within the UK.
Bala was jailed for two years after also admitting conspiracy to traffic within the UK.
The judge was told both defendants had originally been victims of the gang but had eventually become part of the management of the scam, masterminded in Poland.
The judge said: "These are serious matters and the message must go out - even to those who have been exploited - if they continue to contribute to exploitation of others it is almost inevitable custody must follow."
Two others alleged to have been connected to the gang have been arrested in the UK and extradited to Poland to stand trial at a date be announced.
Related Internet Links
The BBC is not responsible for the content of external sites.