Girls bras removed from Sheffield Asda after complaint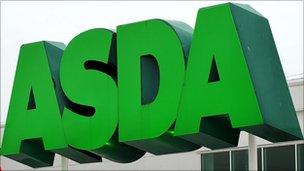 A supermarket chain has withdrawn a display of bras for young girls after a mother complained the items risked sexualising children.
The size 28AA bras were displayed prominently in the womenswear section at Asda in Handsworth, Sheffield.
Nikola Evans said the bras looked padded and sent out the wrong message to children and "predatory adults".
Asda said the items were not padded, but should have been removed six months ago and had now been withdrawn.
Mother-of-two Ms Evans, 39, from Chesterfield, said: "I couldn't get a school shirt for my four-year-old son but there was a huge display of padded bras which were clearly meant for young girls.
"Staff told me they used to be on sale in the children's section but they had been moved to the lingerie department.
"I just thought, this is wrong, I've got to say something. It really upset me."
Ms Evans wrote a letter of complaint to the company which resulted in the bras being removed from sale.
"As a mother what I saw really shocked me. It was so in your face and sends out the wrong message to young girls."
A spokeswoman for Asda said: "The item found in our Sheffield store should not have been on sale as it was a size we withdrew over six months ago.
"However, in any event, it wasn't padded - it contained a thin modesty and smoothing layer that through extensive research teenagers buying their first bra tell us they like, as it avoids the embarrassment of having their nipples showing under the school shirts.
"We do not sell children's padded bras."
The spokeswoman added that the company had signed up to the Mumsnet internet site's Let Girls be Girls campaign.
She said: "Every single one of our childrenswear products goes through an in-house panel of mums to assess its suitability."
Asda would continue to sell bras in the next size up at 28A, the spokeswoman said.
Related Internet Links
The BBC is not responsible for the content of external sites.