Rotherham car auction firm closes with job losses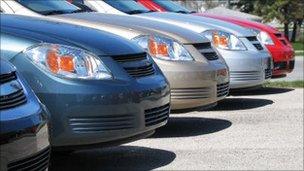 A Rotherham car auction firm which has been in business for more than 20 years has closed, with the loss of 30 jobs.
The business at Canklow Meadows industrial estate is owned by Manheim Remarketing, part of The Manheim Group, which has 24 sites in the UK.
The site at Rotherham traded around 30,000 vehicles a year, specialising in fleet and dealer vehicles.
Manheim Remarketing said it was the intention to relocate as many staff as possible to nearby sites.
'Re-development difficult'
One worker told the BBC: "I've worked here for 21 years and 30 of us are out of a job today, it's disgusting".
The firm previously traded as Independent Car Auctions before the Bailey family, who owned it, teamed up with Manheim in the USA to form the UK and European arm of the global auction giant.
Mike Pilkington, managing director for Manheim Remarketing, said re-development was difficult because the firm does not own the freehold.
"With the lease expiring early next year, we have taken the decision to relocate all activities to our neighbouring Manheim Auctions locations," he said.
"The vast majority of the main sales programme will be integrated into our auction facilities in Leeds, Mansfield and Knottingley, which are all within 30 miles distance.
"Whilst we have unfortunately had to put the staff at Rotherham at risk of redundancy, it is very much our intention to relocate as many of them as practically possible to other Manheim locations."
Related Internet Links
The BBC is not responsible for the content of external sites.