Cable: Sheffield Forgemasters loan was 'not affordable'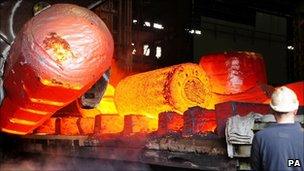 The coalition government cancelled an £80m loan to Sheffield Forgemasters because it was not affordable, the Business Secretary has said.
Vince Cable was quizzed on the issue by MPs on the Business Select Committee.
Chairman Adrian Bailey said members were "baffled" by the decision not to go ahead with the loan to help the firm make components for new power stations.
Mr Cable said the government inherited a "very difficult" financial position when it took over from Labour.
He said it had to make early decisions on cuts.
"We decided that the £80m loan was not affordable," he said.
"We took the decision on affordability grounds. The £80m would have been a loan, supported by £80m of government borrowing. It would have been straight cash out of the door in the financial year."
Mr Bailey, the Labour MP for West Bromwich West, said there was an element of "bafflement" among MPs on the committee and the business community about why the loan was rejected, especially as it was central to the government's aims of balancing and "greening" the economy.
Rachel Reeves, the Labour MP for Leeds West, said of 241 projects reassessed by the coalition government, 217 were going ahead, 12 were postponed and 12 were cancelled.
The government was only saving between £1bn and £2bn, said Ms Reeves, adding that she did not understand why the Sheffield Forgemasters loan had been cancelled, especially as Mr Cable had previously described it as good value for money.
Mr Cable agreed the project was good value for money but stressed the scale of the cuts the coalition had to make because of the state of the economy it inherited.
Related Internet Links
The BBC is not responsible for the content of external sites.