Yorkshire sport award for World Cup referee Howard Webb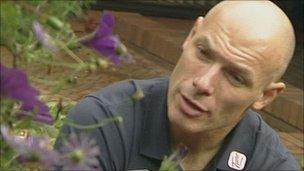 A policeman who was selected to referee the World Cup Final has been honoured at the 22nd annual Yorkshire Awards.
Howard Webb, 39, from Rotherham, was given the Sporting Achievement award at a ceremony in Leeds on Friday night.
Charity fund-raiser Claire Wood, of Boston Spa, who has a rare form of arthritis, won the Community Hero award.
The Yorkshire Awards were set up to recognise "those who have had an impact on Yorkshire and its people".
This year Mr Webb became the first person to referee the UEFA Champions League and FIFA World Cup finals in the same year.
He said his team went to the World Cup in South Africa hoping they could be involved in the later stages of the competition.
"To receive the final appointment was a tremendous honour and it was something that will live with me forever," he said.
Mr Webb is on a five-year career break from South Yorkshire Police.
He added: "What's happened over the summer and the heightening of my profile will change my role in the police should I return. I clearly can't do any undercover work."
Mrs Wood has raised tens of thousands of pounds for charities through a series of sponsored events.
She said: "I had problems occurring with my joints and my spine when I was 11 years old, which eventually progressed into arthritis which was diagnosed at 15.
"As a child growing up it was devastating because I didn't know what I was going to do. I got bullied, I got called grandma, I got called cripple, all for the sake of being different from everybody else."
Mrs Wood said she was inspired to start fund-raising after watching the late Jane Tomlinson take part in a half marathon.
She said helping others took her mind off her own pain.
Michelin-starred chef Marco Pierre White picked up the Man of the Year award, while Leeds-born novelist Barbara Taylor Bradford was named Woman of the Year.
Leeds-born Pierre White recently became a partner in the Ilkley restaurant where he started out in the late 1970s, the Box Tree.
Taylor Bradford's debut novel, A Woman of Substance, is one of the top 10 bestselling books of all time.
Sheffield-based film producer Mark Herbert won the Arts and Entertainment award.
His Bafta award-winning company, Warp Films, produced the critically-acclaimed This is England and 4 Lions.
The Help for Heroes charity won the Richard Whiteley Special Award for the help it has given to wounded UK soldiers.
The Business Enterprise award was given to Leeds-based supermarket chain Asda, which was founded in the city in 1949.
Dr Ingrid Roscoe, the Lord-Lieutenant of West Yorkshire, won the Lifetime Achievement award.
Related Internet Links
The BBC is not responsible for the content of external sites.