Doncaster parents call for inquiry into boy's death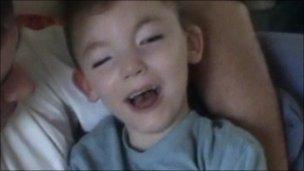 The parents of a seven-year-old disabled boy from Doncaster are calling for a public inquiry into their son's death.
Warren Jobling died during a short respite care break in April 2008.
Despite a serious case review by Doncaster Council, Andrea and Ian Jobling say many questions remain unanswered.
Their calls for an inquiry have been backed by Labour leader and Doncaster MP Ed Milliband.
Doncaster Council said the serious case review had been approved as "adequate" by the education watchdog Ofsted.
It also said a number of recommendations for improvement in multi-agency practice had been identified and completed.
Warren suffered from a rare genetic condition.
The review states his death was to be expected at any time.
It also references a history of cardiac arrest - something which is disputed by Warren's parents.
Mr and Mrs Jobling told the BBC's Inside Out programme they wanted more details about what happened to their child in the hours before he died, when he was being looked after by a carer.
Andrea Jobling said: "The anger is still there because we have not got the truth leading up to Warren's death and that is what we want."
Ian Jobling added: "It's finished to them, but not to us - we are still living with this heartache of losing our son. They are still questions unanswered."
Mr Milliband said: "I think it's right they get the fullest information they can about this tragic case. It's very distressing for the family who are still grieving his loss."
The Joblings had earlier started legal action against the council over their son's death, but this has now been dropped.
Roger Thompson, chair of Doncaster Safeguarding Children Board, said: "We fully recognise the sadness of Warren's death and respect the family's decision to pursue further inquiries.
"In order to establish any lessons that needed to be learnt by local multi-agencies involved in supporting Warren's care needs, the board supported the commissioning of an independent serious case review in November 2008.
"The content of this review was evaluated and approved as 'adequate' by Ofsted. According to evidence available at the time of the review, a key medical finding concluded that due to Warren's complex health needs his death could have happened anywhere and at any time."
He added that the review had found that overall Warren was well cared for and was able to access a range of specialist services during his life.
Warren's death triggered one of seven separate serious case reviews by the council.
Related Internet Links
The BBC is not responsible for the content of external sites.