Barnsley baby graves memorial target reached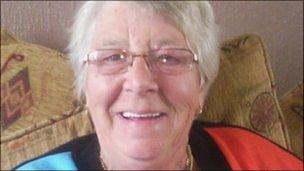 A Barnsley woman has reached her target of raising £11,000 for a memorial to hundreds of babies buried in unmarked graves in the town's cemetery.
Carole Taylor's daughter Michelle died in 1971 when she was a day old. She is one of many infants buried in unmarked public graves in Barnsley Cemetery.
It was 10 years before Mrs Taylor, who is now 68, found out where her daughter had been laid to rest.
She started campaigning two years ago to raise money for a memorial.
Now she has raised £11,000 to pay for a marble statue to mark the area where the graves are.
"The day of the dedication ceremony will be one of the best days of my life," Mrs Taylor told BBC News.
At the time of her daughter's death, it was common practice to put infants who died at birth or shortly afterwards in unmarked graves.
Mrs Taylor said there was little time allowed for grieving.
"You didn't have time to think," she said. "There was no aftercare after the death so you just got on with life.
"But you still never forgot. You don't forget the baby.
"Then, when I found out where she was and how many babies were in the same grave, that's when it hits home."
She opened a shop selling second-hand goods to help with the fundraising and, as word got round about what she was doing, more parents came forward.
Mrs Taylor said: "There are more than 300 babies altogether in public graves with no markings.
"Other parents came to me wanting to find their babies and then word of mouth got round and more people started coming."
She has already chosen the design for the memorial.
"It's in blue pearl Italian marble and there's an angel baby in a hand on the top of it," said Mrs Taylor.
"It's going on a plot in Barnsley Cemetery. Looking at the site, it's empty, but that's where most of the graves are."
Despite reaching her fundraising target, Mrs Taylor said her work would not stop there.
"It's been hard work but I've still got a lot of items left in the shop so I'll keep going until I've got rid of all of those," she said.
"And I've had more phone calls from ladies wanting me to find their babies, so that is going to keep me busy for quite a while."
Related Internet Links
The BBC is not responsible for the content of external sites.