Concern South Yorkshire helicopter 'could be scrapped'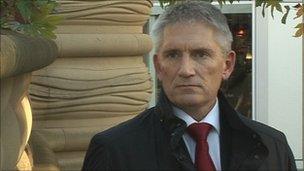 South Yorkshire Police's chief constable has expressed concern the force's Sheffield-based helicopter may be scrapped.
Med Hughes told BBC Radio Sheffield future plans meant the aircraft may be removed from its current base.
He said they would then have to get the service from neighbouring regions.
The Association of Chief Police Officers (ACPO) said it was working with the government to establish a National Police Air Service.
Mr Hughes said: "There's a project to turn the current system, which has over 30 independently-owned police helicopters, into a national system.
"I support the proposal in the broad terms, it's much more effective to have a national police helicopter and fixed-wing network.
"But the plans in detail would take away the air base which we currently have at Sheffield, and we would then get our service from bases in West Yorkshire, Humberside and Ripley in Derbyshire.
"I think that's too far away."
He added: "I will fight to make sure we continue to get the service we need in Sheffield, which of course is our busiest area."
An ACPO spokeswoman said: "The government has expressed a commitment to establishing a National Police Air Service by April 2012.
"Air support illustrates how the police service is working hard to make savings in difficult financial times.
"A new service would work collaboratively to provide capability from the air that maximises the delivery of front line public services, but with a lower cost than services procured and managed on a local basis."
Related Internet Links
The BBC is not responsible for the content of external sites.