Sheffield girl 'scarred for life' after dog attack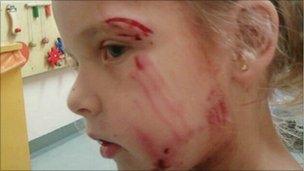 The mother of a four-year-old Sheffield girl who was bitten on the face by a dog says her daughter has been scarred for life.
Charlotte Cort-Levin was attacked by a neighbour's Japanese Akita dog as she played with a friend.
Her mother Katie Levin said she was angry that police had told her they could not take action, as the incident happened on private land.
South Yorkshire Police said a civil case could be pursued.
Ms Levin said the attack happened in a neighbour's garden in the Meersbrook area of the city in July.
She told BBC Look North: "I just went into shock, I was shaking, crying, I didn't know what to do.
"I got Charlotte in my arms and I was trying to stay calm for her, telling her it was all right. But inside I was reeling."
Ms Levin added that doctors had told her Charlotte's scars would fade over time, but would be permanent.
She added: "They [the police] cannot seize the dog and have it put down, they can't do anything."
The Japanese Akita is not covered by the 1991 Dangerous Dog Act.
Ms Levin said she planned to write to the prime minister asking for all dog attacks to be made a criminal offence.
"I want to change the law, I think it's a pathetic law."
South Yorkshire Police said in a statement: "A full investigation has been conducted and at this point it is not believed any criminal offence has occurred.
"Officers have spoken to the child's parents and to the owner of the dog giving advice concerning their options regarding the animal.
"The child's parents could seek redress through civil courts."
The Dog Control Bill, which is going through Parliament, would change the law on controlling dogs on private land.
If passed, attacks which take place on private property would become a criminal offence and the legislation would no longer be breed specific.
Related Internet Links
The BBC is not responsible for the content of external sites.