Sheffield City Council Lib Dems defy coalition policies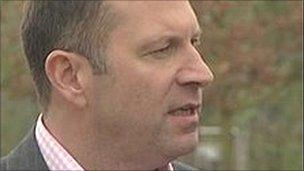 Liberal Democrats on Sheffield City Council are defying party leaders over two key coalition government policies - council homes and tuition fees.
The government is to introduce shorter lets for council houses, bringing to an end "tenancies for life".
A review of university tuition fees by Lord Browne earlier in October proposed lifting the cap on tuition fees.
The Lib Dems, who run Sheffield council with a minority administration, have broken ranks on both issues.
Council leader Paul Scriven has submitted a motion to next week's full council meeting opposing any increase in tuition fees and calling for them to be scrapped.
Sheffield's Lib Dem councillors have also tabled a proposal which, if accepted, will preserve lifetime tenancies for the city's local council tenants.
Mr Scriven said: "We may be in coalition in Westminster but we're not in coalition in Sheffield and as Liberal Democrats we will continue to voice our opposition to measures with which we disagree.
"Unlike our Labour predecessors who were silent on the war in Iraq, local post office closures and tuition fees, we're willing to stand up for the interests of Sheffield people even if it means disagreeing with a government which contains members of our own party.
"It's quite right in a democratic country, if you disagree and you don't think it's necessarily right for some Sheffielders or Sheffield as a whole, that we stand up and we do actually oppose things.
"I think Nick [Clegg]'s got broad shoulders and the Liberal Democrats nationally have broad shoulders.
"Compromises have to be made and Nick makes his decisions and I respect him for that. He's got a very difficult job but I've also got a job back here."
A spokesperson for Mr Clegg, the MP for Sheffield Hallam, said: "Phasing out tuition fees remains Liberal Democrat policy.
"However, this is clearly not possible right now and there is a crisis in university funding that has to be dealt with."
Related Internet Links
The BBC is not responsible for the content of external sites.