Armed police cleared over Sheffield siege death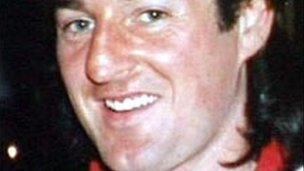 Armed officers acted "diligently, patiently, professionally and bravely" during a two-day siege in which a man died, the police watchdog has found.
Kevin Quirke barricaded himself in his flat in Gleadless, Sheffield, with his two children after police tried to arrest him in January last year.
During the incident shots were fired at police and fireworks thrown.
Mr Quirke, 49, was found dead in a bedroom 48 hours after the start of the siege.
The Independent Police Complaints Commission (IPCC) released its report after an inquest on Mr Quirke recorded a narrative verdict.
The IPCC said Mr Quirke became aggressive when officers arrived at his home on 4 January and he threatened to start a fire after barricading himself in the flat with his children.
The next day the children were freed after police armed with Tasers entered the home.
The officers withdrew after a shot fired through a bedroom door struck an officer on his protective helmet.
On 6 January, following 16 hours of no contact with Mr Quirke, officers entered the flat again and found his body.
The IPCC said there was "a clear command structure, logical and progressive decision making, appropriate deployment of authorised firearms officers and diligent and professional work by negotiators" during the police operation.
Commissioner Nicholas Long said: "I believe our investigation has shown the officers involved dealt with a very dynamic situation diligently, patiently, professionally and bravely.
"Difficult decisions had to be made with the aim of trying to protect the public, officers, Mr Quirke's children and Mr Quirke himself.
"The negotiators in particular worked in difficult circumstances over an extended period of time to try to bring about a peaceful resolution.
"It was a terrible shame that their work was not successful however they can be assured their work was nothing but diligent and professional throughout."
Related Internet Links
The BBC is not responsible for the content of external sites.