Conisbrough Castle plan wins £60,000 lottery funding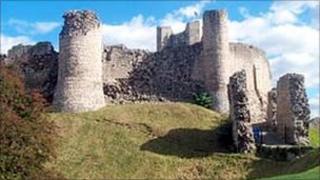 A move to turn a Doncaster castle into one of northern England's premier heritage attractions has attracted lottery funding.
Conisbrough Castle has been awarded £60,000 from the Heritage Lottery Fund (HLF) to develop plans for improvements to attract further visitors.
Doncaster Council and English Heritage are now consulting residents on ways they can improve the site.
The castle is one of the few Norman castles left in the UK.
Economy boost
A castle has stood on the site for 1,000 years and the current fortress is 800 years old.
The council, which owns the castle, and English Heritage, which manages the site, will work on plans for the site over the next 18 months, before bidding for a £1m grant from the HLF.
The money will be used to encourage greater community use of the castle, enhance visitors' experiences and improve access.
Peter Davies, the Mayor of Doncaster, said: "Conisbrough Castle is a unique ancient monument and one of the borough's greatest tourism assets. It is certainly the most impressive castle to be seen anywhere in the region.
"I would welcome any developments which would help draw more visitors into Doncaster and boost our local economy."