Sheffield protest students target Nick Clegg's office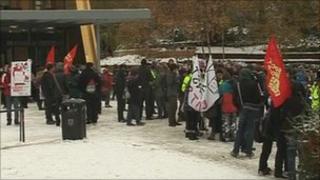 Students have demonstrated near the deputy prime minister's constituency office in Sheffield as part of the protests against tuition fee rises.
About 200 students marched from the University of Sheffield to Nick Clegg's office in Nethergreen Road.
Police banned the group from protesting outside the office because it is close to businesses and a children's nursery.
The demonstration took place on a road 40m (130ft) from the office and was limited to 100 protesters.
About 30 officers stood between the crowd and the office and dozens more police were in reserve in surrounding streets, some carrying riot gear.
As the demonstrators arrived at the site some attempted to break through barriers put up by police but those involved were pushed back by community officers.
South Yorkshire Police said its Chief Constable Meredydd Hughes had signed an order under Section 14 of the Public Order Act 1986 to "allow peaceful protest but minimise disruption to local people".
Urged to reconsider
Supt Martin Scothern said: "The planned protest site does not lend itself to large-scale assembly and immediately adjacent to the constituency offices are business premises and a children's nursery.
"This gives grounds for fearing that the rights of those not involved in protest would be disproportionately affected if South Yorkshire Police allowed protest to go ahead, unconstrained by limitations as to the location or size of assembly."
Mr Scothern added: "One hundred people is still a sizeable demonstration, we are not trying to restrict people's right to protest."
Student Max Brophy criticised the action.
He said: "So far in Sheffield all student protests have been peaceful and have gone very well.
"What they are doing now is restricting students' right to protest and expecting them to be happy about that."
Thousands of students across the UK are taking part in protests against increasing tuition fees and university budget cuts.
Mr Clegg, the MP for Sheffield Hallam, has urged students to reconsider the government's plans for student fees.