Drivers stranded after snow on A57 finally get moving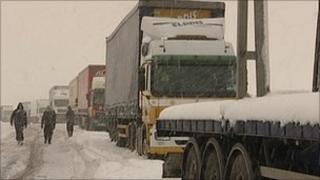 More than 100 drivers were able to continue their journeys late on Thursday having spent a second night stranded by snow in South Yorkshire.
Many drivers who were stranded on the A57 since Tuesday evening because of the severe weather had taken refuge at a nearby Methodist church.
More than 300 schools were closed and Robin Hood Airport will remain shut until at least noon on Friday.
Motorists have been warned not to leave valuables inside abandoned vehicles.
BBC Climate Correspondent Paul Hudson said the total depth of snow in Sheffield city centre had reached 38cm (15in) - the deepest amount recorded in December since records began in 1882.
South Yorkshire Police had said mountain rescue teams had helped take motorists from their vehicles on the affected stretch of the A57, between Todwick and Worksop.
A spokeswoman said there had been reports of at least eight cars having been broken into on Treeton Lane, Rotherham, after their owners were forced to abandon them because of the weather.