Robin Hood Airport remains closed as cold snap bites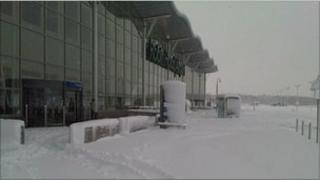 Doncaster's Robin Hood Airport is to remain closed until Monday, as the impact of heavy snow and ice continues to affect South Yorkshire.
The airport has been closed on and off since Tuesday because of the adverse weather conditions.
A spokeswoman said staff were working to clear 18in (46cm) of snow on the runway, which is lying on top of ice.
She added that passengers were advised to contact their airline for details about flights.
Meanwhile, more than 100 drivers who were stranded on the A57 for two nights earlier this week due to the snow have now been able to continue their journeys.
South Yorkshire Police confirmed the stretch of the road between Todwick and Worksop had reopened on Thursday evening.
Some motorists had taken refuge at a nearby Methodist church.
About 130 schools across South Yorkshire remained shut on Friday.