Robin Hood Airport reopens as snow-hit runway cleared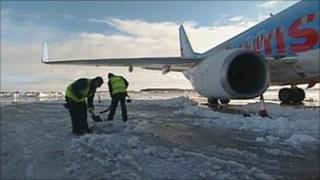 Doncaster's Robin Hood Airport has reopened earlier than expected after the runway was cleared of snow and ice.
The airport has been closed on and off since Tuesday because of the adverse weather conditions.
It was not expected to reopen until Monday morning but staff managed to clear up to 18in (46cm) of snow from the runway by Sunday afternoon.
A Thomson plane carrying 150 passengers to the Spanish island of Lanzarote was the first flight to take off.
Passengers scheduled to come into Doncaster since Tuesday had their flights diverted to Liverpool or East Midlands.
Mike Morton, the airport's director, said: "We have had a dedicated team of staff that have been coming into the airport and making sure that we get the snow cleared as best we could.
"In total we have had 12 to 18in of snow over the last four or five days and what we have found is during the evening hours, early hours of the morning it's dropped below freezing and it's started to freeze."
'Worst in country'
Mr Morton said delayed passengers had been "absolutely fantastic".
"They recognise it's a one-off and it's not an airport problem," he said.
Christian Cull, from Thomson, said: "Doncaster, in terms of how long it's been closed, has been as bad as any airport, if not the worst in the country."
Mr Cull said the cost of the snow and ice to Thomson this week was "hundreds of thousands of pounds".
He added: "We've tried to cancel as few planes as possible, our customers have been really patient.
"They don't want to cancel, if they do we re-book for them, but for us it's important to get each of the aeroplanes, even if they are delayed, out so people can still go on holiday."