Robber threatens to burn disabled Conisbrough man alive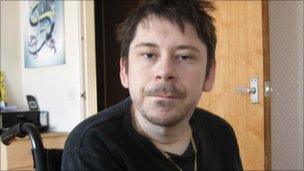 A disabled businessman has told how he was doused in petrol and threatened with being set on fire by a robber who stole just £60.
Shane Bratby is now considering giving up his disability aids shop after the attack in Conisbrough, South Yorkshire.
A robber burst into the shop on Church Street and doused Mr Bratby with petrol when he refused to open his safe.
Mr Bratby said he had been robbed before and said: "I think it's the right time to chuck in the towel."
The father-of-three suffers from Friedreich's ataxia, a disease that causes progressive damage to the nervous system and affects his speech and mobility.
He said: "[The robber] said 'I don't want to hurt you but give me your money'.
"At the same time they was approaching my desk, getting closer to me, then they chucked petrol on to me then waved their lighter, threatening to light me on fire unless I gave them the safe."
The thief then found Mr Bratby's safe behind the shop counter and escaped with the cash.
Mr Bratby, who uses a wheelchair, said he was "terrified" during the robbery on 26 November, which is being investigated by South Yorkshire Police.
He said he had a £300 satellite navigation system stolen last month and was now considering closing the shop.
"I think it's the right time to chuck in the towel and time to move on," he said.
Related Internet Links
The BBC is not responsible for the content of external sites.