House-high snowman in Doncaster back garden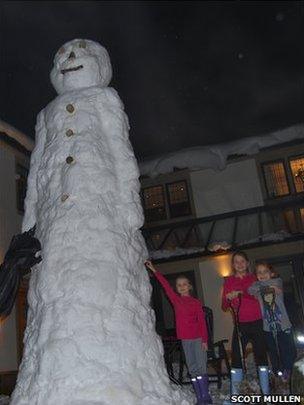 A businessman and his two friends have built a giant snowman in a Doncaster garden.
Karl Broadbent decided to make the snowman after his daughters challenged him to build one as high as their house.
He roped in his friends and they spent six hours building the snowman on Sunday with the help of the children, some large buckets and ladders.
Mr Broadbent, 38, said "Mr Snowman" now took pride of place in their garden.
He said the idea came about after his daughters Ella, 10, and Mollie, seven, had taken part in a snowman-making competition at their school.
"We had a couple of feet of snow in the garden and the girls had asked if we could build a snowman as big as the house," he said.
"Jokingly I said yes. It got to 8ft and I asked if we should put the head on it, but it still wasn't as big as the house.
"After trying to fob the girls off at 10ft we realised they were not going to let us off. In the end we got a bit stupid, as dads do, and we ended up with a 16ft snowman."
Mr Broadbent, who owns a paintball company, said they had built the snowman by packing snow into huge buckets provided by his builder friend and filling in the gaps by hand.
The men then climbed up the ladders and passed the buckets up to each other.
They were also assisted by Mr Broadbent's wife, Stephanie, who was the "designated hot chocolate maker".
He said that his daughters were impressed when Mr Snowman, who also has his own picnic table umbrella, was finished.
"They were blown away by it, and have told all their friends at school," Mr Broadbent said.