Sheffield students stage further tuition fee protests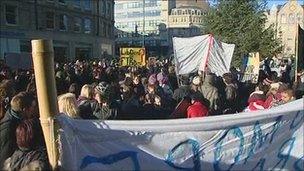 Hundreds of students in South Yorkshire have taken part in rallies and marches on the eve of a vote over a planned rise in tuition fees.
More than 300 students marched from Sheffield's two universities to a rally at the town hall in Pinstone Street.
In Barnsley about 50 students marched through the town centre before gathering for a demonstration on the town hall steps.
The key vote on lifting the cap on tuition fees will be held on Thursday.
Jo Oliver, of Sheffield University Students' Union, said: "I think the government are clearly very worried about it. The fact that ministers are flying in from around the world to vote does show they are nervous about it.
"I hope that we are on the verge of defeating the government and I hope we can have an effect.
"I think the politicians really thought 'we can quietly slip this one past students... they're very apathetic, they'll moan a bit but they won't do anything about it'.
"But I think we have proved them wrong and that students are very angry about this."
The Lib Dems have come under heavy pressure after pledging before the election to vote against any fee rise.
They have defended the proposals, which will see no upfront payments and graduates starting to repay the cost of their degrees when they earn £21,000.
They say low-earning students will contribute less than under the system the coalition inherited.
Related Internet Links
The BBC is not responsible for the content of external sites.