Government urged to help Sheffield Forgemasters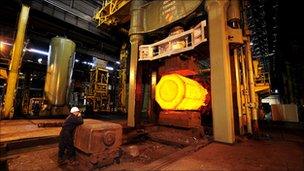 The government has been urged to continue trying to secure funds to enable a Sheffield firm to expand after an £80m loan was axed.
The coalition cancelled funds to Forgemasters to build parts for nuclear power stations as part of a review of Labour's spending decisions in June.
MPs on the Business Select Committee said the UK would have taken a lead in the industry if the loan had happened.
The committee said an effort should be made to ensure funds were secured.
Announcing the loan in March, the former Business Secretary Lord Mandelson said it would make Sheffield Forgemasters one of two plants in the world able to make large forgings for the nuclear energy industry.
The committee, which has been reviewing the coalition government's decision, said axing the loan was an "easy cost saving".
It added: "While this is a legitimate way to proceed, the department should have been more transparent in articulating this process and not hidden behind the simple defence of affordability."
The committee said: "We urge the government to continue in its effort to secure funding for this project, whether by public or private funds, so that an opportunity to take the lead in this important industry is not lost."
MPs said they welcomed an undertaking by Business Secretary Vince Cable that he would "entertain" a fresh loan application from Forgemasters.
"Should the company make a further application, we would expect the Secretary of State to honour that undertaking," the committee added.
Related Internet Links
The BBC is not responsible for the content of external sites.