Rotherham council brings back Saturday parking charges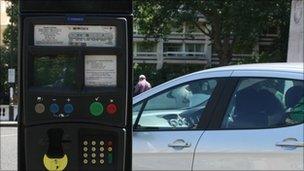 Shoppers used to free parking in a South Yorkshire town each Saturday have been warned charges are coming back.
Budget cuts and financial pressure on council departments has "forced" Rotherham Council to bring back charges in the new year.
In a statement the council said "every alternative funding option" had been exhausted.
The charges will be enforced from Saturday, 8 January but officials are looking at future options.
Councillor Richard Russell, who is responsible for the town centre, said: "The funding we received to pay for free parking incentives was actually cut in July.
"But the authority agreed to find funding of its own to continue free Saturday parking to cover the Christmas period, which we know is so important to local traders.
"Unfortunately, funding to continue the scheme just is not available, especially as other essential services must continue under already reduced budgets.
"From speaking to the owners of businesses in town, we know that free parking has proved beneficial and we will continue to do our very best to look for ways in which we could continue to fund the scheme in the future."
Related Internet Links
The BBC is not responsible for the content of external sites.