Three rescued from Sheffield tower block fire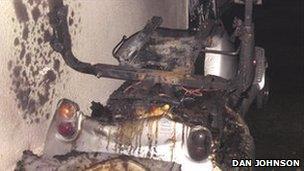 Three people have been taken to hospital after firefighters rescued them from a fire on the eighth floor of a Sheffield tower block.
Nine other people, including two firefighters, were treated at the scene after breathing in smoke.
The fire started on the eighth floor of the 14-storey Parkside block in Stannington, early on Monday.
None of the casualties is thought to have been seriously hurt. The fire is believed to have started accidentally.
A fire service spokesman said: "The fire started because of an electrical fault in an electric scooter on the eighth floor.
"A man and a woman in one flat and a man in a neighbouring flat couldn't get out because of the fire and were led to safety once firefighters had put the fire out.
"There was a huge amount of smoke going into flats on floors above. The smoke spread up to the 11th floor.
"Another seven from the flats above were treated for mild smoke inhalation, as were two firefighters."
Related Internet Links
The BBC is not responsible for the content of external sites.