Barnsley Council wage cut plan to save jobs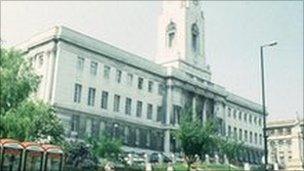 Staff at Barnsley Council are being asked to take a wage cut to help reduce job losses at the authority.
Plans to slash workers' salaries is one of a number of contract changes the council has proposed in the wake of government cuts.
Leader Steve Houghton said the authority was facing the biggest cuts in its history and the move could save several hundred jobs.
The Unison union said workers could end up losing as much as 20% of their pay.
The council is looking to cut costs by about £40m over the next four years and said a total of 1,200 staff would probably lose their jobs over that period.
Notices have now been sent out to council staff detailing the proposed changes to pay and conditions, which also include a pay freeze for four years.
Mr Houghton said management wanted to negotiate with unions to find the "best possible solution".
"Where we are at the moment is where a lot of councils are saying we've got some huge cuts to come, some huge losses in jobs and services and we'd like to talk to unions and staff formally about the alternatives to that."
Mr Houghton said if staff pay and conditions were not changed then it would mean big job losses.
"There's no easy way out of this. We're not considering this simply because we think it's the right thing to do, it's obviously a bad thing but we are faced with the biggest cuts in British history.
"A lot of our staff are frightened for their jobs and are saying to us anecdotally 'is there somewhere else we can look at instead of doing this?' so we're trying to keep all options on the table."
Ray Oldroyd, Barnsley branch secretary for Unison, said: "Taking into account inflation, the pay freeze, rises in VAT... the typical council worker could be as much as 20% worse off."
He added: "Now that's not affordable in the current climate. We've still got to feed people and people are going to be struggling."
Related Internet Links
The BBC is not responsible for the content of external sites.