Science park plan for Doncaster Earth Centre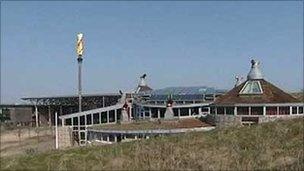 Plans to convert a failed environmental visitor attraction into a science and business park have been submitted to Doncaster council.
The Earth Centre opened in 1999 on the site of a former colliery at Denaby at a cost of £55m, but was closed in 2004 after failing to attract enough people.
The consortium behind the plan said the park would have its own university education and training programmes.
Doncaster council is expected to make its decision on the site next month.
A spokesman for the consortium, which includes the Yorkshire Wildlife Trust, said it had taken almost two years to prepare its bid.
Chris Hill said: "The park is about individuals and businesses discovering and using the things that will help them succeed as the world economy tries harder to limit the damage done to the planet.
"It will be like an open classroom or laboratory, examining ways to reduce carbon, use natural resources responsibly and make a healthier planet from the bottom up."
In February this year, Doncaster council revealed it was spending £200,000 a year to maintain the 20-hectare (50-acre) site.
It was put up for sale in October.
Related Internet Links
The BBC is not responsible for the content of external sites.