Sheffield City Council cuts: 400 'seek redundancy'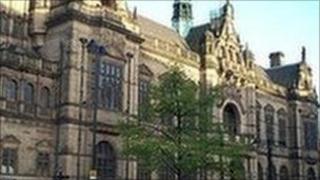 More than 400 staff at Sheffield City Council have volunteered for redundancy as the local authority seeks to cut costs, union officials have said.
The council has warned it needs to make budget savings of nearly £220m over the next four years.
Managers have been in talks with union leaders since September but the number of job cuts has not yet been confirmed.
The GMB union said that during that time more than 400 people had "come forward for voluntary redundancy".
GMB regional organiser Peter Davies said that was in addition to 460 posts which had been closed after people left the council during the past year.
Talks continue
"These are jobs that aren't going to be replaced and that doesn't make the headlines," he said.
"While we have been negotiating about cutbacks over 400 people have come forward for voluntary redundancy.
"Over 800 will have gone by the time we get into the next financial year."
The Liberal Democrat-run council, which employs about 15,000 people, is still engaged in talks with the GMB, as well as the Unison and Unite unions, over the proposed cuts.
As well as job cuts, staff have been told they may see changes to their contractual terms and conditions of employment in an effort to make about £30m of savings over the next three years.
Proposals set out by the authority include a change to the sick pay scheme and a freeze on increments.