Rotherham Rawmarsh School teachers strike over job cuts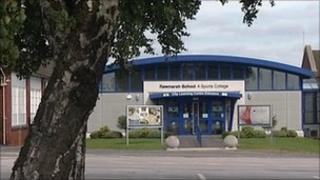 Teachers at a secondary school in Rotherham have started a three-day strike in protest over proposed job cuts which they described as "savage".
Rawmarsh Community School is to lose 34 staff, including 15 teachers, in a bid to reduce a £1.3m deficit.
The National Union of Teachers (NUT) said: "These savage cuts are going to have a massive impact on the school."
Head teacher Stuart Wilson said the school needed fewer teachers as pupil numbers had fallen sharply since 2008.
Mr Wilson, who only joined the school in September, told BBC News: "Three years ago the school had 1,162 children, now we have 943. If we lose 15 teachers we are in the same position as we were.
Strike 'regrettable'
"We are losing 20% of our children and, in simple terms, we have to lose 20% of our teachers and we have a budget deficit to address as well.
"Nobody wants to lose valued staff.
"However, given that we started this year with 220 fewer students than three years ago but with the same number of teachers, have a growing budget deficit and are subject to the same national cuts as other schools, something had to be done. "
He acknowledged that class sizes would increase as a result of the cuts but said they would go up to an average of 25 pupils, smaller than in many schools.
He said he felt sorry for any staff affected but said strike action was "regrettable for everyone involved".
Rawmarsh teacher and NUT representative Ralph Dyson said: "If these job loses take place class sizes must rise and the children of Rawmarsh will not receive the education they are entitled to.
"Rawmarsh is an excellent school and the teachers at Rawmarsh want to keep it excellent."
He said the striking teachers had received backing for their action from many parents and other schools.