Four swine flu-related deaths in Rotherham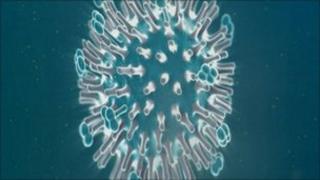 Four people suffering from swine flu have died in Rotherham this winter, doctors have said.
Three were patients at Rotherham District Hospital, the hospital's medical director Professor Walid Al-Wali told BBC News. The fourth was a 16-year-old who died at home.
All had swine flu, but also had other underlying medical problems, he said.
The hospital cancelled non-urgent surgery this week because of a shortage of bed space as a result of flu cases.
Professor Al-Wali said: "We have cancelled all elective surgery since Monday but are still doing emergency surgery.
"We have taken that decision in a very balanced way to ensure that patients with clinical need get care.
"The cancellation of electives was so important so we can manage the large number of people coming in with respiratory illnesses, particularly swine flu."
He urged anyone with flu-like symptoms to consult their GP or NHS Direct instead of going straight to hospital.