Sheffield City Council cuts lead to 270 job losses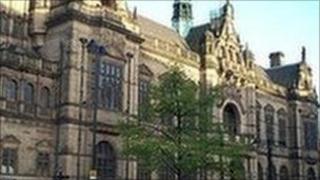 Sheffield City Council has announced 270 jobs will be axed over the next financial year as the local authority looks to save £80m.
More than 400 posts have already been cut this year as a result of voluntary redundancies or unfilled vacancies.
Its chief executive John Mothersole said the job losses were fewer than initially feared.
Union Unison said it was concerned some services would not be provided or operate at the same level.
The council has said it needs to make budget savings of nearly £220m over the next four years, with £80m cuts over the next financial year.
Paul Scriven, leader of the Liberal Democrat-run authority, said half of the affected posts would be managerial and professional in an effort to reduce the impact on frontline services.
He said child protection and adult social care services had been protected.
Mr Scriven said he understood the "human effect" of the job losses.
"I've had in my past my own job at risk and I understand the human effect of this.
"Of course it's going to be difficult and we will do everything possible to enter another round of voluntary redundancy to see whether we can avoid compulsory redundancy.
"I understand this is about people and their families. The thing we have done is make sure few people as possible are put in this place and not the thousands that were predicted."
John Mordecai, Sheffield chairman of Unison, said compared to other authorities the job losses figure was small.
But he said concerns centred around what staff and services would be affected.