Union fears for 1,200 jobs at Sheffield City Council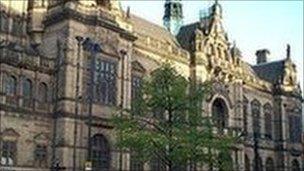 A union official has claimed that job losses and unfilled vacancies are much higher at a city council than has been disclosed by councillors and officials.
Last week Sheffield City Council said 270 jobs would go within a year as the council looked to save £80m.
But now Chris Jenkinson, from the union Unison, said the figures of actual job losses as against those leaving the council amounted to almost 1,200 posts.
The city council said it would not be drawn into speculation about figures.
Mr Jenkinson said the union considered the actual losses to be as a result of job cuts and posts left vacant.
He said: "We think the figure is nearer 1,200 jobs [lost].
"Last week an announcement was made there would be 270 job losses.
"That is not a figure we recognise and we have had some considerable discussion with officers at the council over the last few months.
"The devil is always in the detail with some of these announcements so we went back and spent the last few days drilling down into that information.
"It's clear it's 270 compulsory redundancies, there's a further 320 people going to leave the council on voluntary means.
"But in addition to that we think there are approaching 600 vacant posts in the council that it has no intention to recruit to in the future.
"So the true figure of job losses as opposed to people leaving the council is nearer 1,200 and the implication of that both for services and the local economy we think is very considerable indeed.
"These were not 'non-jobs', these were jobs held by people who were delivering services to local communities across the city."
Mr Jenkinson said many of those roles were covered by other people "working longer and harder" but the situation was not sustainable.
In a statement, Sheffield City Council said: "We set out clearly last week how Sheffield City Council aims to bridge an £80m budget gap next year and how we would expect to meet that shortfall with some proposed workforce reductions.
"We have not, and will not, be drawn into speculation about numbers and have identified that we would need to lose 270 posts next year to help balance the budget.
"Losing staff is not a position we would want to be in but is a tough step we need to consider.
"Prudent and well-planned organisations do carry vacancies to ensure services can be staffed where essential so not every vacancy has been offered up to offset the budget gap.
"We hope our Trade Union colleagues understand we want to protect jobs and reduce redundancies, a point we have been making to them often since our regular meetings started with them last summer."
Related Internet Links
The BBC is not responsible for the content of external sites.