World Cup referee honoured by Rotherham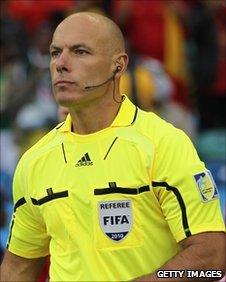 A South Yorkshire policeman who refereed the World Cup Final is to be given the freedom of his home town.
Sgt Howard Webb, 39, from Rotherham, was appointed MBE in the New Year Honours list after he became the first Englishman to referee a World Cup final since 1974.
Mr Webb has been a Fifa-listed referee since 2005. He is currently on a five-year break from South Yorkshire Police.
The leader of Rotherham Borough Council will read a citation later.
Councillor Roger Stone, the leader of the council, said Mr Webb was "an absolutely fantastic ambassador for both Rotherham and sport in general".
"He is at the pinnacle of his game and he certainly put the town on the map when he took charge of last year's World Cup Final between Spain and Holland," Mr Stone said.
"That match was the culmination of a long and distinguished refereeing career that I am proud to say began here in the local Rotherham leagues in 1989.
"He is the sort of man who, despite busy work and family commitments, has also made a massive contribution to charity.
"He is a very worthy Freeman of Rotherham and we are very proud that Howard has agreed to accept this honour."
The South Yorkshire Police officer will be presented with an illuminated address bearing the Rotherham Coat of Arms commemorating his enrolment.
He will also receive a pendant and will be asked to sign the Roll of Honorary Freemen by the Mayor of Rotherham, Councillor Rose McNeely.
Related Internet Links
The BBC is not responsible for the content of external sites.