Woman sent 20 miles to cross Doncaster train track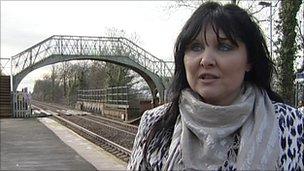 A disabled nurse is angry that she has to make a 20-mile round trip to get to the other side of a railway track.
Karen Redmile uses Doncaster's Thorne North station to travel to and from work and is usually helped across the tracks to the opposite platform.
But restricted access after 1400 GMT means she now has to catch a train to Goole and then back to Thorne to get to the correct platform.
Northern Rail said other options were being investigated.
Ms Redmile, who is a councillor for Thorne, has Behcet's Syndrome, a chronic condition which affects her movement.
She is used to being helped by a conductor over the tracks on a "barrow crossing" to the opposite platform where there is a ramp out of the station.
Ms Redmile is unable to use the footbridge because her condition makes it too painful.
But she said a member of railway staff recently advised her to stay on the train to Goole 10 miles away where she could change platforms and then catch a return service to Thorne.
She said: "Up until recently the conductor used to walk you over to the bridge, unlock the gate and walk across.
"Without any signs being put up or any warning at all, the facility has just been stopped and so last week myself and a friend with a baby in a pram found ourselves stuck on the station."
Rail user and mother Becky Armstrong also criticised the changes.
She said: "I need the crossing and so do other mums with pushchairs."
Pete Myers, head of service quality for Northern Rail, said: "We can only provide access across the barrow crossing at Thorne North when the station is manned, which is why the station has always been advertised as inaccessible outside of these hours.
"However, we are working with our industry partners to investigate safe ways of assisting customers across the crossing when the station is unmanned."
Related Internet Links
The BBC is not responsible for the content of external sites.