Sheffield care home fined after toilet cleaner death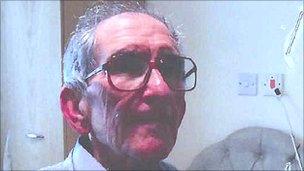 A care home has been fined for breaches of safety laws over the death of a resident who drank toilet cleaner.
The chemicals were left in the room of blind dementia-sufferer Derek Johnson by staff at Newfield Care Home, in Cat Lane, Sheffield.
The frail 80-year-old's death hours after drinking the fluid in July 2009 was easily avoidable, the Health and Safety Executive (HSE) concluded.
Sheffield magistrates fined home owners Palms Row Healthcare £15,000.
Retired accountant Mr Johnson, who had lived at the home for just over a month, was taken to Northern General Hospital when he began vomiting blue liquid, but died hours later.
The liquid was found to be toilet cleaner which had been noticed in his room earlier that day but not removed.
His brother Ray said: "Derek was placed in a nursing home for his own safety and yet my very act of trying to keep him safe resulted in his death.
"I cannot reconcile this feeling and battle with it daily and I am still trying to come to terms with what I see as the untimely death of my big brother.
"We hope that lessons will be learned from what happened to Derek so that other families do not have to suffer the same heartache and loss that we are still suffering."
An HSE investigation found the care home was putting vulnerable residents at risk by leaving hazardous substances unattended, and allowing access to the laundry and kitchen.
Following the incident, HSE served Palms Row Healthcare with three Improvement Notices, as well as bringing the prosecution.
Inspector Carol Downes said: "Mr Johnson's death was a terribly tragic one, particularly as it could have been easily avoided by simply locking away the chemicals.
"There was no excuse for Palms Row Healthcare's failure to protect the vulnerable people in its care.
"It is imperative that care home owners consider the risks to people they are looking after and manage those risks to prevent incidents like this."
Palms Row Healthcare, of Westbourne Road, Sheffield, was also ordered to pay costs of £14,472 after pleading guilty to breaching the Health & Safety at Work Act.
Related Internet Links
The BBC is not responsible for the content of external sites.