Pothole death 'a matter of time', says Yorkshire MEP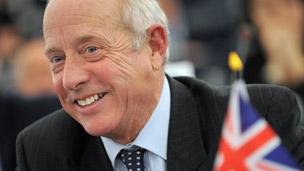 A Yorkshire MEP has warned a death due to a pothole-related car crash is "only a matter of time".
Godfrey Bloom has sent a letter to South Yorkshire councils urging them to increase pothole repair budgets.
He took action after a friend's tyre was shredded by a pothole on the A1 in Yorkshire, narrowly avoiding a crash.
New BBC research has revealed South Yorkshire councils have paid out more than £700,000 in pothole damage compensation in the last two years.
Mr Bloom said: "My friend's family was in the car and it went out of control after hitting a pothole.
"The tyre was shredded and they had to be rescued, and it's only because he is an experienced driver that the incident wasn't much worse.
"This is an extremely dangerous problem and needs to be prioritised - more money needs to be directed at potholes.
"It's only a matter of time before there's a death and I'm stunned there's not been one already.
"People are swerving to avoid them and some are on blind bends."
In Sheffield, 14 "seek and repair" teams of two or three people have been dedicated to finding and patching up potholes.
The Lib Dem-run city council says it is a basic temporary measure until carriageway repairs are possible in spring.
Responding to criticism that the patchwork repairs, which may only last weeks, are a waste of money, Lib Dem councillor Shaffaq Mohammed said: "If we had the resources to do the repairs we would.
"We know people are not satisfied with the roads, but they wouldn't be satisfied if we did nothing either."
Sheffield increased its highways maintenance budget from £2.1m to £2.5m this year.
A spokesman said they believed the budget for next year, which is currently being decided, "will be enough to deal with the required road repairs".
Councillors in Rotherham said they were shocked to find out engineers were using a "shovel and pat" method to fill potholes, which was branded a waste of time and money.
Labour's Gerald Smith, who is responsible for regeneration and the environment, said: "We only had enough funding for temporary fillings - some last for two weeks, some last longer.
"But we told the engineers they have got to do it right. Patting the filling down with a shovel is a waste of money, if it's done properly it will last longer."
The Labour-run borough council's highways budget almost halved in 2010/11 from the previous year to £5.8m.
A spokesman said a one-off injection of cash had improved the most heavily-used roads, but admitted the roads are likely to deteriorate further.
Road deterioration 'likely'
He said: "The overall condition of Rotherham's highway network has deteriorated over recent years and this trend is likely to continue given the anticipated level of funding that is likely to be available."
The authority has paid out around £550,000 in compensation claims to drivers in the last two years.
Compensation claims in Doncaster rocketed from £42,500 in 2009/10 to £101,349 this year.
The English Democrat-run borough council's total highways budget was £2.4m.
A spokesman said this year's budget was expected to deal with "reactive and safety repairs" only.
Barnsley borough council boosted the annual £3.5m highways budget with a one-off injection of £2m this year to tackle potholes.
But councillors said another bad winter had left them with a further £300,000 of potholes.
Labour council leader Steve Houghton said: "The winters are getting harsher and if this is going to be a regular feature the pressure to increase spending will give us more problems.
"We are trying to protect highways maintenance in next year's budget. If we don't, we will end up getting lots of compensation claims, so it's a false economy."
Barnsley paid out £8,240 in motorist compensation last year.
Last week, the government said it would be putting aside £100m for councils to bid for if they felt they had been badly hit by potholes.
Related Internet Links
The BBC is not responsible for the content of external sites.